JAKARTA – Indonesian logistics and forwarder association (ALFI) urged Finance Minister Sri Mulyani to revise the Minister of Finance No.229 / PMK.04 / 2017 because the beleid is considered to kill forwarding, transportation and customs clearance (PPJK) and medium or SMEs.
Permenkeu 229/2017 regulates the procedures for imposition of import duty on imported goods based on international agreements or agreements.
Chairman of the DPW ALFI DKI Jakarta, Widijanto said due to the enactment of Permenkeu 229/2017 that many PPJK members of ALFI DKI Jakarta which became an extension of importers at the port of Tanjung Priok must bear the duty of goods. Whereas according to the rules are not subject to import duty as the Asean free trade agreement.
"Over the past week alone, nearly 100 of our member companies are reporting to Jakarta's ALFI regarding the issue," he told Bisnis.com, Tuesday (20/3/2018).
Continue reading →
Ocean freight is the process of sending cargo commercially through sea. The goods that are shipped through sea are usually divided into three categories, i.e., household goods, express parcels as well as freight shipment. A fright shipment is when a cargo is too large and heavy to be sent as a parcel. Businesses that are dealing with international shipping must negotiate with multiple shipping companies to get the best rates.
The international or overseas cargo can be quite expensive, thus it's better to find the shipping companies that are offering you the best deal. A reasonable priced shipping service can save you a lot of money. Many businesses across the globe also hire agents that help them to keep a track on various shipping companies that may offer best rates.
Air and ocean freight are two major methods of shipping cargos on international grounds. With increasing globalization and technology advancement, more opportunities have become available to businesses which help them in exploring a wide network of their consumers and in expanding. Transactions, unlike ever before, have become easier to make in the international market owing to the introduction of new communication tools.
Today, hardly any business can elude the inevitable activity of international shipping. For the same, they hire international shipping companies, which are on continuous rise owing to the fact that they perform this function perfectly. The best oversea shipping services are available with these firms. Though, a wide variety of shipping methods are available in the present era, only sea freight was used to ship products to different locations earlier.
JAKARTA – The Ministry of Transportation expects port activities can last for 24 hours in 7 days along with the operation of Inaportnet in 16 ports throughout Indonesia.
Minister of Transportation Budi Karya Sumadi said Inaportnet application can unite all stakeholders. These conditions can make the savings both in terms of time and human resources.
"As in Priok, not knowing when it can happen, I ask Saturday – Sunday to enter. No more Saturday-Sunday is a holiday. Well, we again assign the Priok team and [together] Customs to invent what to do with the INSW [Indonesia National Single Window], Inaportnet the necessity to do IT sophisticated and open 7 days in a week even 24 hours it can happen, " he said.
JAKARTA – The development of transportation infrastructure is expected to have a positive impact on the reduction of logistics costs of the country.
Chairman of the Indonesian Chamber of Commerce and Industry (Kadin) Rosan P. Roeslani said the new logistics costs could be more efficient if transportation and logistics are integrated.
"Transportation and logistics infrastructure must be integrated in order to reduce the cost of logistics," he said at a press conference of Indonesia Transport, Logistics & Maritime Week 2017 in Jakarta on Thursday (5/10/2017).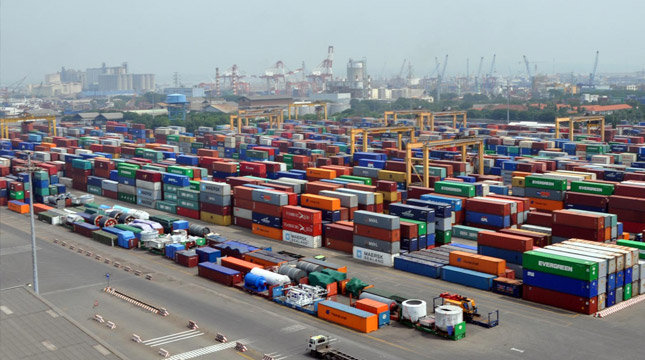 Jakarta – A total of 350 national and international companies participated in the exhibition of Indonesia Transport, Logistic & Maritime Week (ITLMW) 2017. The event will be held from 10 to 12 October 2017 at the Jakarta International Expo, Kemayoran. ITLMW 2017 aims to be a forum for industrial communications and business opportunities dedicated to the transportation, logistics and Maritime sectors in Indonesia.
"The main objective of KADIN Indonesia in organizing this exhibition is to provide a platform for business opportunities in the transportation, logistics and maritime sectors, as well as to create opportunities for business transactions and cooperation opportunities between local and international players. In addition, ITLMW 2017 is also expected to provide insights and insights on the importance of developing an integrated national logistics system, becoming a networking event and providing the latest information and knowledge on Transport, Logistics and Maritime industry in Indonesia, "said Chairman of Kadin Indonesia Roslan P Roeslani in broadcast the press to INDUSTRY.co.id, Thursday (5/10/2017).
JAKARTA – Indonesia is listed as one of the countries with the highest logistics cost. Indonesia's logistics cost comparison to gross domestic product (GDP) is about 26%.
Vice Chairman of Kadin for Logistics and Supply Chain Rico Rustombi said it was an irony. The reason, based on data Kadin logistics sector contribution to GDP reached 7.16%.
"The contribution of the logistics sector is very large, so if the logistics cost comparison to GDP can be reduced to 20% it will be extraordinary," he said in Jakarta on Thursday (5/10/2017).
The problem now, Rico said, of the many infrastructure projects built by the government has not been specifically targeted for logistics.
JAKARTA – The Indonesian National Shipowners Association (INSA) said that the increase of transportation tariff to Eastern Indonesia, especially on Surabaya-Ambon route is driven by the increase of operational cost.
Chairman of DPP INSA, Carmelita Hartoto said one of the contributors to the increase in operating expenses on the Surabaya-Ambon route is the increase in the price of fuel oil or marine fuel oil (MFO). MFO price by Carmeilita jumped 47% to Rp5,600 per liter.
He added that the business expenses of shipping business is getting heavier because at the same time the amount of cargoes being transported has not experienced significant growth. "The fuel cost component is quite large on shipping operations," he said in a press release received by Bisnis.com on Monday (2/10).
JAKARTA – Logistics and transportation sector is a special concern Imani Prima because with a large population make this sector an attractive market as well as a big challenge on a national scale. So that the successful implementation of IoT technology in this field will contribute directly to the national logistics efficiency.
"In addition we will concentrate on entering mass production of hardware in the form of subscriber device. Our experience for the last 10 years in the IoT business will be focused on a single focus, the strengthening of the IoT ecosystem, with four major links, "said PT Imani Prima Yuli Cahyono COO at the Asia IoT Business Platform 2017 conference in Jakarta on Tuesday (8/8 / 2017).
There are several options in regards to shipping a container of cargo overseas. It's not as easy as calling Fed-Ex to come and pick it up. In order to ship a container overseas it is best to have a freight forwarder or customs broker handle the shipment. They can make sure that an empty container arrives at the place of origin for easy loading.
In order to obtain international shipping rates you will need to know the dimensions of the cargo that you are shipping, quantity and weight. Once you have that information you can start getting quotes on sea freight. If shipping a full container, there are a few sizes to choose from.