JAKARTA – Secretary General of Indonesian Logistics and Forwarders Association (ALFI) Akbar Djohan said that ALFI is ready to take an active role in international logistics to welcome the One Belt One Road (OBOR) initiative.
It was submitted when signing a memorandum of understanding between the ASEAN Federation of Forwarders Associations (AFFA) and China Council for the Promotion of International Trade (CCPIT) under the authority of GuangXi Provincial Government of China on April 27, 2018.
He said the memorandum of understanding is an effort to realize Asean and Asia-Europe connectivity within the framework of OBOR.
OBOR is China's major project to connect the land-based logistics and trade routes from China to Europe and Asia including Asean. On the occasion of the signing, ALFI is an Asean representative (AFFA).
Continue reading →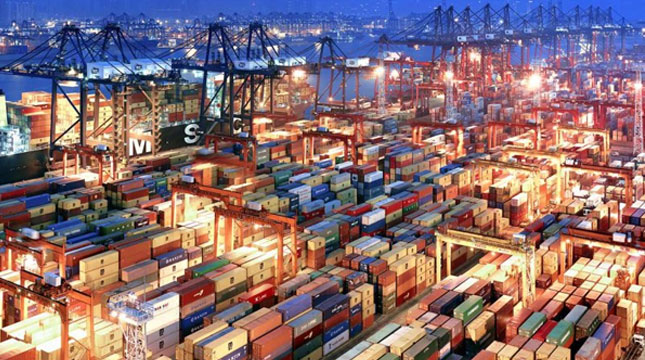 Jakarta, Supply Chain Indonesia (SCI), Indonesian Logistics Forwarders Association (ALFI), and ASEAN Federation of Forwarders Associations (AFFA) are collaborating on Indonesian logistics sector research.
This cooperation aims to explore the problems of Indonesia's logistics sector as the basis for formulating recommendations for improvement and development of Indonesia's logistics sector. Recommendations will be submitted to the Government through relevant ministries and agencies.
One form of ongoing cooperation is research through Indonesia's logistics sector polls of 2017-2018 to gain perceptions of stakeholders on Indonesia's logistics sector by 2017 and prediction in 2018.
JAKARTA – The Ministry of Transportation plans to cut the service fee by 40%. This tariff cut is part of efforts to reduce logistics costs.
Minister of Transportation Budi Karya Sumadi said that besides tariff of services labuh, some types of tariffs that become components of non-tax state revenue (PNBP) will also be cut. "Range of decline is quite a lot, maybe 40%," said Budi Karya to Bisnis.com in Jakarta, Thursday (18/1/2018).
Budi Karya acknowledged that tariff cuts would reduce PNBP revenue in the ministries he leads. Therefore, Kemenhub will immediately consult with the Ministry of Finance related to the impact of the tariff reduction policy. He estimates, in the short term, the acceptance of PNBP levies will have a significant impact if tariffs are cut.
By definition a freight forwarding supplier is a third party provider who takes care of all of the logistics involved in the shipment of goods from one place to the other. Your freight services provider will take charge of arranging for all of the carriers and transportation needed to get your goods to their ultimate destination. Typically, you would not use freight forwarding for a local or domestic removal as the logistics involved with such shipments are not as complicated as those involved with international freight – the same cannot be said for sending cargo overseas. When it comes to sending cargo overseas, it is best to rely on the expertise of a professional freight forwarder.
JAKARTA – The Indonesian Logistics and Forwarders Association (ALFI) wants the obligation to prepare customs bonds or custom bonds applied to each province, not to each of the customs and excise service offices.
Adil Karim, General Secretary of ALFI DKI Jakarta, said the custom bond rule is very burdensome and resulted in forwarder companies and customs clearance companies (PPJK) threatened with bankruptcy because they can not fulfill the custom bond obligation.
"As a middle way, we ask for one custom bond to be applied for activities in one province only, not at any Customs Service office," he told Bisnis on Wednesday (3/1/2018).
Denpasar  – The price of Indonesian export goods can compete when the cost of shipping (logistics) optimally. In order to facilitate the logistics of export goods, the government is obliged to provide infrastructure.
Chairman of the National Board of Indonesian Logistics and Forwarders Association (ALFI) / ILFA, Yukki Nugrahawan on the sidelines of the 27th AFFA Annual Meeting and Rapimpus to I ALFI / ILFA Saturday (25/11) said the 27th AFFA Annual Meeting and Rapimpus to I ALFI / ILFA to get input and logistic improvements to each member country of AFFA.
For in Indonesia through the meeting is scheduled to discuss issues of education, multimodal, including delivery (logistics). With good delivery, export goods from Indonesia can be reached in destination countries such as in the Asia region to secure convenient funds.
Denpasar (Bisnis Bali) – Shipping / logistics of export goods from Bali, so far more through the Port of Benoa. Vice Chairman of the Indonesian Association of Logistics and Forwarders (ALFI) / ILFA Bali AA Bayu Joni said on Friday (1/12) that the Surabaya route became one of the alternatives to export goods from Bali when container or container containers at Benoa Harbor were delayed arrival.
He revealed, the number of export products from Bali, among others, due to the problem of high shipping costs (logistics) and the delay of delivery.
Delay in the delivery of exported goods is sought alternative path.
JAKARTA – Connectivity of state-owned and private logistics companies is Indonesia's 'key' to face the global market. This was revealed by the Chairman of ALFI (Indonesian Logistics and Forwarders Association), Yukki Nugrahawan Hanafi who emphasized the importance of collaboration among agencies to support government programs in making the program towards 'ASEAN Connectivity 2025.'
"Logistics connectivity in the ASEAN region can only be realized if we establish a strategic synergy between state-owned and private logistics companies. It will be far from the fire if the logistics industry players put forward the ego and put aside the spirit of collaboration, "said Yukki who is also the Chairman of the AFFA (ASEAN Federation of Forwarders Associations) recently.
Denpasar: The Vice Governor of Bali Ketut Sudikerta supports the establishment of a reliable, effective and efficient logistics system that can support non-oil exports on the Island of the Gods.
"Bali is not only a tourist destination of the world, but Bali has become a market point for marketing various products, especially handicraft products from all over Indonesia that are distributed around the world," Sudikerta said on Sunday, November 26, 2017.
He stated that Bali is currently connected with other provinces in Indonesia and other cities around the world through five entrances and exits, namely I Gusti Ngurah Rai Airport, Padang Bai Sea Port, Benoa Sea Port, Gilimanuk Seaport and Celukan Sea Port Onion.
However, these places still need to improve both in terms of capacity and quality of service.
JAKARTA – Main Service Office (KPU) of Tanjung Priok Port Jakarta ensures monitoring and evaluation of the performance of temporary hoarding facilities (TPS) in the customs area of ​​the port of Priok continues to be improved.
Head of the Tanjung Priok Customs and Excise KPU Commission, Dwi Teguh Wibowo, said his agency will also adjust to national and local requirements and policies / regulations in relation to whether or not to reduce or add TPS facilities at Priok Port.
"Regarding the needs of TPS facilities, Customs Priok adjust to national and local regulations (Pemrov DKI) applicable," he told Bisnis.com, Thursday (23/11/2017).