JAKARTA – The Indonesian Logistics and Forwarders Association (ALFI) has responded positively to the ease of logistics business processes in relation to the recognition of forwarder companies as contractual or non-vessel operating common carrier (NVOCC) carriers.
With this recognition, the forwarder company can directly deliver the manifest or submit the import-export document as a contractual carrier to the Directorate General of Customs and Excise.
Chairman of Jakarta Special Capital Region (DPF) ALFI, Widijanto said the ease of forwarder business process in connection with the enactment of Regulation of the Minister of Finance No: 158 / PMK.04 / 2017 and Regulation of the Director General of Customs and Excise No. PER-38 / BC / 2017 at Tanjung Priok Port at 23 May 2018 and at Soekarno Hatta Airport on July 25, 2018.
Continue reading →
JAKARTA – Indonesian logistics and forwarder association (ALFI) urged Finance Minister Sri Mulyani to revise the Minister of Finance No.229 / PMK.04 / 2017 because the beleid is considered to kill forwarding, transportation and customs clearance (PPJK) and medium or SMEs.
Permenkeu 229/2017 regulates the procedures for imposition of import duty on imported goods based on international agreements or agreements.
Chairman of the DPW ALFI DKI Jakarta, Widijanto said due to the enactment of Permenkeu 229/2017 that many PPJK members of ALFI DKI Jakarta which became an extension of importers at the port of Tanjung Priok must bear the duty of goods. Whereas according to the rules are not subject to import duty as the Asean free trade agreement.
"Over the past week alone, nearly 100 of our member companies are reporting to Jakarta's ALFI regarding the issue," he told Bisnis.com, Tuesday (20/3/2018).
Continue reading →
JAKARTA – In order to increase the LPI (Logistics Perfomance Index) and EoDB (Ease of Doing Business), the Indonesian Logistics and Forwarders Association (ALFI) expects Smart Port or Smart Ports system to be sharpened.
In addition, the system is expected to be used by its members to bring ease to the era of digitalization.
"The development of the Smart Port system connectivity will provide access to more than 53 ocean ocean routes with an unlimited ship arrival date and unlimited vessel of 130 countries linked to Japan, US, Canada track and trace container manifest," said DPP ALFI Chairman Yukki Nugrahawan Hanafi quoted on Tuesday (6/3/2018).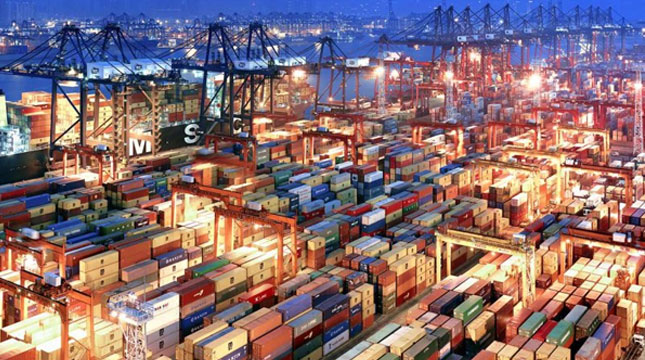 Jakarta, Supply Chain Indonesia (SCI), Indonesian Logistics Forwarders Association (ALFI), and ASEAN Federation of Forwarders Associations (AFFA) are collaborating on Indonesian logistics sector research.
This cooperation aims to explore the problems of Indonesia's logistics sector as the basis for formulating recommendations for improvement and development of Indonesia's logistics sector. Recommendations will be submitted to the Government through relevant ministries and agencies.
One form of ongoing cooperation is research through Indonesia's logistics sector polls of 2017-2018 to gain perceptions of stakeholders on Indonesia's logistics sector by 2017 and prediction in 2018.
JAKARTA- A forwarder company handling customs clearance services (PPJK) urges the certainty of the Government to revise the rules of guarantee customs activities or custom bonds that currently burdensome business actor.
M.Qadar Jafar, Chairman of the Tanjung Priok Port PPJK Forum, revealed that at the beginning of the year, the custom bond PPJK has to be extension for the next activity.
Continue reading →
JAKARTA – The Indonesian Logistics and Forwarders Association (ALFI) wants the obligation to prepare customs bonds or custom bonds applied to each province, not to each of the customs and excise service offices.
Adil Karim, General Secretary of ALFI DKI Jakarta, said the custom bond rule is very burdensome and resulted in forwarder companies and customs clearance companies (PPJK) threatened with bankruptcy because they can not fulfill the custom bond obligation.
"As a middle way, we ask for one custom bond to be applied for activities in one province only, not at any Customs Service office," he told Bisnis on Wednesday (3/1/2018).
General Secretary of DPW Jakarta Logistics and Forwarders Association (ALFI), Adil Karim, urged the improvement and evaluation of the service tariff structure at Tanjung Priok Port.
Improvement and evaluation of the tariff in the port of Priok, according to him, becomes the authority of the local port authority based on the Minister of Transportation Decree No: 72/2017 on the type, structure, class and mechanism of port service tariff assignment signed by MoT Budi Karya Sumadi on August 11, 2017.
"There needs to be a refresher and a review because the existing tariff structures and mechanisms do not create cost-efficiency logistics services through Priok port," said Adil Karim.
Based on Jakarta ALFI study, he said, the tariffs at Priok port should be evaluated, among others, pilotage tariffs and tariffs, progressive tariffs and penalty accumulation of containers in one port line or import export container terminals in Priok. Continue reading →
The two major ways of transporting cargo overseas is air freight and ocean fright. Due to rapid globalization and advancement of technology, businesses have got much more opportunities to expand as well as explore their network of consumers and suppliers. Unlike earlier, the transactions in the global market have become much easier due to the presence of advanced communication tools. International shipping has become a part and parcel of every business. The surge in demand of international shipping has forced the shipping companies to continuously evolve so as to provide the best services to the clients. Before the various other shipping options came into existence, all complies relied solely on ocean freight as a means to transport freight to various overseas locations. This is a tried and tested method of transportation and the practices that various shipping companies have been following since long have successfully overcome all the challenges faced in shipping. Ocean fright is a much more popular option than sea freight due to the following reasons:
JAKARTA. some time ago the Indonesian National Shipowners Association (INSA) announced a 20 feet freight shipping tariff for the Surabaya-Ambon route. The Indonesian Logistics and Forwarders Association (ALFI) is not yet aware of the clarity regarding this tariff increase information.
"We who represent the traders do not know the obvious. It may be worth explaining openly so that all parties can see in a transparent, "said Yukki Nugrahawan Hanafi, Chairman of the Indonesian Logistics Forwarders Association. Sunday (8/10).
JAKARTA (BeritaTrans.com) – The Indonesian Logistics and Forwarders Association (ALFI) is disappointed with Pelindo II ujuk ujuk wanting to launch Container Freight Station (CFS) Center.
Whereas in a meeting with Pelindo Branch of Tanjung Priok some time ago ALFI asked Pelindo II to present first in detail the concept of CFS Center, said Sekil Alfa Jakarta Adil Karim, Tuesday (3/10/2017).
The presentation of CFS Center concept of Pelindo II is important for ALFI. Due to the less then Container Load (LCL) import business actors targeted by Pelindo II will fill the CFS Center member forwarder of ALFI.