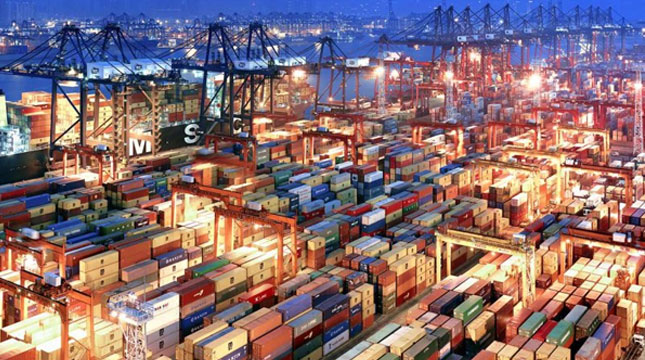 Jakarta, Supply Chain Indonesia (SCI), Indonesian Logistics Forwarders Association (ALFI), and ASEAN Federation of Forwarders Associations (AFFA) are collaborating on Indonesian logistics sector research. This cooperation aims to explore the problems of Indonesia's logistics sector as the basis for formulating recommendations for improvement and development of Indonesia's logistics sector. Recommendations will be submitted to the Government through relevant ministries and agencies. One form of ongoing cooperation is research through Indonesia's logistics sector polls of 2017-2018 to gain perceptions of stakeholders on Indonesia's logistics sector by 2017 and prediction in 2018. Research respondents conducted on 15 January to 14 February 2018 are practitioners and service providers, goods owners, academics, bureaucracy, observers, and related parties in the field of logistics. In addition to the relevant ministries or agencies, the results will be published in the mass media. Chairman of SCI, Setijadi, said that research through this poll has been conducted regularly in the last 3 years. "Research conducted on several main pillars of the logistics sector and developed with scientific methods to ensure validity and objectivity," said Setijadi via press release in Jakarta, Thursday (25/1/2018). He added, for the year 2017-2018, the level of depth of research is added. For infrastructure pillars, for example, the analysis will cover up to per mode of transportation. "This is important for the government to get more detailed input in determining the priority of infrastructure development of transportation modes," he explained. He continued, given the multisectoral logistics, the analysis of the regulatory pillars is also more detailed, including the regulation of domestic trade, foreign trade, transport regulations, customs regulation, and regional regulation. "Research is also conducted to determine the effect of foreign investment and the effectiveness of the implementation of government programs such as the Toll Sea Program," he said. The research is also conducted to find out the strategies that will be practiced by logistic sector practitioners in 2018. Some of the strategic options that are the focus of this research are collaboration with regional or global players, logistic infrastructure investment (warehousing, transportation, etc.), and human resource development. Meanwhile, Chairman of ALFI and Chairman of AFFA, Yukki Nugrahawan Hanafi, stated that so far Indonesia is too dependent on the results of research from foreign agencies and consultants, including for the logistics sector. "Therefore, the collaborative research of SCI and ALFI is important as a logistics sector research led by domestic institutions and associations," said Yukki. SCI and ALFI are partnering with AFFA to strengthen research in ASEAN regional perspective, so that research results that will be useful in improving Indonesia's logistics competitiveness will also be seen in the perspective of ASEAN countries. --------- Sources: http://www.industry.co.id/read/24300/sci-alfi-affa-jalin-kerjasama-dalam-penelitian-logistik Translated by
Aryaputra Pande
-
BIC
JAKARTA- A forwarder company handling customs clearance services (
PPJK
) urges the certainty of the Government to revise the rules of guarantee customs activities or custom bonds that currently burdensome business actor. M.Qadar Jafar, Chairman of the Tanjung Priok Port PPJK Forum, revealed that at the beginning of the year, the custom bond PPJK has to be extension for the next activity. "If a custom bond only applies to one customs office service is very burdensome for us, please help the government listen to PPJK business voice that has been classified as SMEs," he told Bisnis today, Thursday (11/1/2018). Qadar said the government's attitude is expected not to be too long in addressing business complaints in the transport and ligistik sector. "The government must respond quickly to the complaints of national entrepreneurs," he explained. Previously, Jakarta Logistic and forwarder Association (ALFI) confirmed that custom bond obligations in every customs office as arranged through Customs and Excise Directorate No: 4 year 2017 potentially deadline PPJK business. ALFI DKI Jakarta wants the obligation to prepare customs bonds or custom bonds applied to each province rather than at each customs and excise service office. --------- Sources: http://industri.bisnis.com/read/20180111/98/725574/desakan-revisi-aturan-custom-bond-terus-bergulir Translated by
Aryaputra Pande
-
BIC
The two major ways of transporting cargo overseas is air freight and ocean fright. Due to rapid globalization and advancement of technology, businesses have got much more opportunities to expand as well as explore their network of consumers and suppliers. Unlike earlier, the transactions in the global market have become much easier due to the presence of advanced communication tools. International shipping has become a part and parcel of every business. The surge in demand of international shipping has forced the shipping companies to continuously evolve so as to provide the best services to the clients. Before the various other shipping options came into existence, all complies relied solely on ocean freight as a means to transport freight to various overseas locations. This is a tried and tested method of transportation and the practices that various shipping companies have been following since long have successfully overcome all the challenges faced in shipping. Ocean fright is a much more popular option than sea freight due to the following reasons:
Cost-Effective
Most of the companies opt for air freight services only when they are transporting perishable goods freight that is time sensitive. If the delivery time isn't a cause of concern for the client, then he or she must opt for ocean freight as it is much more economical than air freight. As the ocean freight rates are much lesser as compared to air, businesses can easily send more quantities in the same amount. Also, ocean freight can easily accommodate goods of different sizes as well as shapes, which includes vehicle, heavy machinery and tools etc. that cannot be transported through air.
Safety
Ocean freight services are combined with the truck deliveries to transport the good to their ultimate location. Majority of the international shipping services provide inter-modal containers so as to ensure that the shipment is not tampered with during the transportation.
Environment Friendly
Apart from being highly practical and economical way of transporting goods, ocean freight is also an environmentally friendly option. It leaves much smaller carbon footprint on environment as the modern cargo ship engines leaves lesser emissions.
Even though ocean freight has got a few limitations as far as transport of freight is concerned, it is still the most popular choice. You must devote some time and effort to find the best shipping service in order to save money. Apart from the cost you should also pay attention to the reputation, customer support and experience of the company that you are opting for. You must gain proper information about ocean freight as it is still a preferred mode for transportation of goods. --------- Article Source: http://EzineArticles.com/7691063 Posted by
Aryaputra Pande
-
BIC
JAKARTA. some time ago the Indonesian National Shipowners Association (INSA) announced a 20 feet freight shipping tariff for the Surabaya-Ambon route. The Indonesian Logistics and Forwarders Association (ALFI) is not yet aware of the clarity regarding this tariff increase information. "We who represent the traders do not know the obvious. It may be worth explaining openly so that all parties can see in a transparent, "said Yukki Nugrahawan Hanafi, Chairman of the Indonesian Logistics Forwarders Association. Sunday (8/10). Previously Chairman of the Indonesian National Shipowners Association (INSA), Camelita Hartoto announced that INSA decided to raise the 20 feet container shipping rate, unlike the Surabaya-Ambon route. Currently, the price is raised to Rp 7 million to Rp 8 million, before the delivery of 20 feet containers is charged Rp 4.7 million to Rp 5.5 million. With this significant tariff increase Yukki said the ALFI is quite surprised by the amount of tariff increase and this becomes the discussion of ALFI members especially those in the East region. "The increase is very surprising to us the perpetrators of logistics because there is no socialization and the increase is very high percent," said Yukki. Yukki also said that in fact almost all shipments destined for eastern Indonesia experienced a rise in tariffs with an almost equal percentage increase. Shipping to eastern Indonesia usually contains basic needs and clothing and electrinic and automotive. If by reason of the increase of Marine Fuel Oil (MFO) price as said by Carmelita Hartoto, Yukki explained that the increase of fuel oil (BBM) must be calculated first. "The fuel increase should be searched for what percentage is included in the cost structure on the voyage," Yukki said. "We appreciate an increase, but not as much as has been decided. Should PLT Director General of Sea Transportation can evaluate this and we also have to say, "said Yukki. --------- Sources: http://industri.kontan.co.id/news/alfi-masih-bingung-soal-kenaikan-tarif-pengiriman Translated by
Aryaputra Pande
-
BIC
DENPASAR - Indonesian Logistics and Forwarders Association Bali expects Tanjung Priok Port can immediately realize direct export routes to destination countries without transit. According to the Chairman of the Bali Logistics and Forwarders Association (ALFI) Bali John Bagus Sujayana, directly to the destination port without transit, it could cut logistics costs for exports. "We expect Tanjung Priok to be a hub, from there to Europe not to Singapore or Malaysia first," he explained, Monday (30/1/2017). With the system he confirmed by him the logistics of shipping cargo from Bali will go down and impact on the cost of goods production. He asserted that Bali's export chain of export products is very long. From Benoa, cargo is shipped to Tanjung Priok or Tanjung Perak, Surabaya and then to Singapore first before being shipped to the destination port. Good saying that such shipping lines cost logistics more. He believed if direct to the intended port can cut the cost and travel time. Believed by Bagus, the direct route will also have a positive impact with the entry of imported goods to the Port of Benoa. Because the cargo ship will carry cargo from the country concerned. For Benoa, it can be a solution to the problem of the lack of cargo from Surabaya to Bali but the opposite is full. With a direct route opened, cargo loading imported products can be brought to Benoa so there is no imbalance of payload. "Export and import cargo can be much the same," he explained. --------- Sources: http://industri.bisnis.com/read/20170130/98/624181/alfi-bali-inginkan-tanjung-priok-jadi-jalur-ekspor-tanpa-transit Translated by
Aryputra Pande
Surabaya - (suaracargo.com) The Ministry of Trade (Kemendag) continues to review a number of regulations related to the smooth flow of goods at the port. Especially the flow of export goods, so that the business world more excited. "Do not let the process of 'flow of document' or 'flow of goods' actually burden the business," said Director General of Foreign Trade Ministry of Trade Oke Nurwan as quoted from Antara in Surabaya on Thursday (7/9). According to him, the Ministry of Trade is currently reviewing 35 import-related regulations and 18 export-related regulations to support the smooth flow of goods. Thus, there will be deregulation so that the flow of goods will be more smoothly, the time for goods to settle in the port or dwelling time can be suppressed, and the competitiveness of Indonesian products will increase. According to Oke, there are currently about 11,000 classified trading products or Harmonized System (HS). Of that total, 5,280 HS is included in commodities subject to "lartas", ie goods that are prohibited and / or restricted to imports or exports. Of the 5,280 HSs, 3,466 HS are related to the Ministry of Trade. "We are reviewing. We expect to live about 1,000 HS, while the rest is done by the mechanism of supervision in the 'post border', "he said, as reported by merdeka.com. Although the Ministry of Trade continues to strive for logistics costs to be suppressed, Oke also asks businesses to utilize the trading schemes that have been built to support the reduction of logistics costs. For example, there are still less than 40 percent of business actors utilizing cooperation with a number of countries through the use of certificates of origin (SKA) in order not to incur export costs. "The ministry will facilitate the cutting of bureaucratic and licensing chains so that logistics costs can be reduced and competitiveness can be improved," he said. Indonesia's global competitiveness index has now dropped to 41 from 37 earlier under Singapore, Malaysia and Thailand. --------- Sources: http://suaracargo.com/kemendag-sederhanakan-peraturan-untuk-tingkatkan-ekspor-barang/ Translated by
Aryputra Pande
Cargo Articles
March 9, 2018
Written by Hariesh Manaadiar To the uninitiated (which included me at one stage), these industries are same or similar and it might come across that there is no difference between Maritime, Shipping, Freight, Logistics and Supply Chain...
more»
Bali News & Tourism Informations
March 13, 2018
Religious, Military and Political Leaders Issue Guidelines for 'Nyepi' Observances on Saturday,...
more»
March 13, 2018
Three Turkish nationals have been arrested in Bali, accused of skimming an ATM in...
more»
March 9, 2018
Holi in Bali. Photo via Indian Consulate Bali CANGGU: Support Milk & Madu's...
more»
Indonesian Cargo News
March 13, 2018
Visitors pay attention to the ticket prices offered at Garuda Indonesia Gallery 2nd floor Trans Studio Mall (TSM). Jl Metro Tanjung Bunga, Makassar, some time ago. MAKASSAR - Garuda Indonesia Travel Fair (GATF) will again be held at Atrium Trans...
more»