350 Companies Will Enlarge International Logistics, Transportation & Maritime Exhibition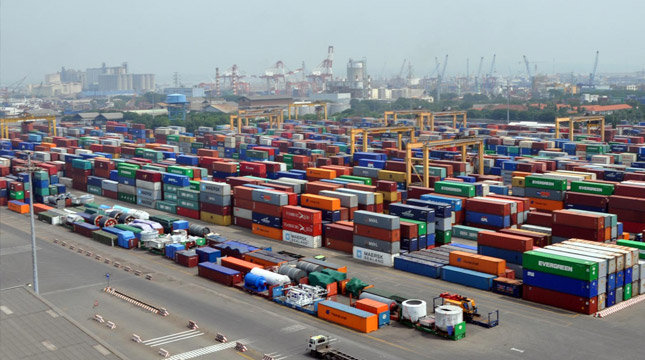 Jakarta – A total of 350 national and international companies participated in the exhibition of Indonesia Transport, Logistic & Maritime Week (ITLMW) 2017. The event will be held from 10 to 12 October 2017 at the Jakarta International Expo, Kemayoran. ITLMW 2017 aims to be a forum for industrial communications and business opportunities dedicated to the transportation, logistics and Maritime sectors in Indonesia.
"The main objective of KADIN Indonesia in organizing this exhibition is to provide a platform for business opportunities in the transportation, logistics and maritime sectors, as well as to create opportunities for business transactions and cooperation opportunities between local and international players. In addition, ITLMW 2017 is also expected to provide insights and insights on the importance of developing an integrated national logistics system, becoming a networking event and providing the latest information and knowledge on Transport, Logistics and Maritime industry in Indonesia, "said Chairman of Kadin Indonesia Roslan P Roeslani in broadcast the press to INDUSTRY.co.id, Thursday (5/10/2017).
Different from the previous years, this exhibition is in line with Vision and Mission of President Jokowi to make changes where Indonesia wants to transform from consumptive country to productive (Producer).
This year KADIN Indonesia together with Reed Panorama Exhibitions focuses on strengthening the main industrial sectors in Indonesia, such as the increasing maritime industry and the reform of the national logistics system that became the main points.
The main challenge for logistic actors is optimally operational aspects, starting from material procurement activities, transportation process, to finally becoming a product consumed by consumers. Thus, the XV economic policy package was born to improve the efficiency of the transportation, logistics and maritime sector in Indonesia in order to increase the competitiveness of the industry.
General Manager of Reed Panorama Exhibitions, James Boey, said Indonesia Transport, Logistics & Maritime Week 2017 will assemble a number of important events that are expected to contribute crucially in the context of the development of key industries in Indonesia. The series of events consist of Indonesia Transport, Supply Chain & Logistics 2017, Intra-Logistics Indonesia, Warehousing Indonesia, Indonesia Trucks & Commercial Vehicles, Indonesia Maritime Expo 2017, Jakarta International Logistics Summit & Expo, and Indonesia Logistics Solution Day.
"This exhibition and conference activity is dedicated to the transportation, logistics & maritime sector which is expected to serve all industry players, supplying services and suppliers of commodities," he explained.
Similarly, Eddy Kurniawan Logam, Chairman of the Indonesian Shipbuilding Companies Association (IPERINDO), said IPERINDO hopes that by holding Indonesia Transport, Logistics & Maritime Week 2017 can provide concrete solutions to important industry issues, especially those related to industry maritime in the country.
"The provision of intergral solutions offered by KADIN Indonesia and Reed Panorama Exhibitions we hope to encourage stakeholders to express their thoughts and insights to improve their regulations, strategies, policies and impacts on the future of the industry and create a comprehensive solution, especially for the Indonesian maritime industry."
ITLMW 2017 is supported by various ministries such as the Coordinating Ministry for the Ministry of Marine Affairs, the Coordinating Ministry for Economic Affairs, the Ministry of Industry, the Ministry of Transportation, the Ministry of SOEs, the Ministry of Marine Affairs and Fisheries and the Directorate General of Customs and Excise of Indonesia.
And there are various business associations that play an active role in the series of exhibitions and conferences, including INSA (Indonesia National Shipowner Association), IPERINDO (Indonesian Shipbuilding Company Association), PIKKI-ISCIA (Indonesian Shipbuilding Industry Association), PRAMARIN (Indonesian Maritime Practitioners ), VSA (Vietnam Ship-owner Association), KOMEA (Korea Maritime Equipment Association), ABUPI (Association of Indonesian Port Enterprise Entities), PPLBI (Association of Bonded Logistics Centers of Indonesia), APKB (Association of Bonded Entrepreneurs Entrepreneurs), APTRINDO (Truck Entrepreneurs Association Indonesia) and other business associations.
———
Sources: http://www.industry.co.id/read/17476/350-perusahaan-akan-meriahkan-pameran-logistik-transportasi-maritim-skala-internasional
Translated by Aryaputra Pande– BIC