JAKARTA – Garuda Indonesia today inaugurated direct flight Denpasar – Xi'an and Denpasar – Zhengzhou vv, as part of the company's network development in expanding its international flight network, especially to China.
The Denpasar – Xi'an and Denpasar – Zhengzhou vv flight routes were symbolically inaugurated by Garuda Indonesia Freight Director Sigit Muhartono who also oversaw the development of Garuda Indonesia international routes. On that occasion also attend other stakeholders from airport service airport I Gusti Ngurah Rai International Airport, Denpasar, Bali.
Sigit revealed the inauguration of the Denpasar – Xi'an and Zhengzhou vv flight routes is part of Garuda Indonesia's strategy to continue expanding its market in China and attract more tourists from China through the provision of direct flights from key cities in China to Indonesia.
JAKARTA – Directorate General of Civil Aviation Ministry of Transportation claims nine airports are ready to be inaugurated this year.
Director General of Air Transportation Agus Santoso said the construction of the nine airports was initiated by the ministry since 2014.
"Year 2018 is ready to be inaugurated operation," said Agus today, Tuesday (30/1/2018).
He added that the nine airports are Maratua Airport in East Kalimantan, Morowali Airport in Central Sulawesi, Letung Airport in Riau Islands, and Tebelian Airport in West Kalimantan.
Uluwatu Fashion House Launches New 'Waterlily Crown' Collection for Women
(1/28/2018)
Uluwatu, the Balinese company famous for its exquisite collections of predominantly-white, handmade lace resort wear for women and men, has launched its new 'Waterlily Crown Collection,' bringing its street-chic designs to a wider audience.
Taking inspiration from the latest summer trends, and encapsulating the fresh spirit of Bali, the new collection is created and designed by Uluwatu's in-house team of international and local designers.
'Waterlily Crown' features striking dresses and easy-to-wear modern separates, including romantic off-the-shoulder dresses and blouses, classic shirt dresses, elegant wrap-over dresses, long dresses and short dresses, sleeveless and three-quarter sleeve tops, bell-sleeved tops, shorts and skirts. Each of these items plays to the brand's strength of impeccable quality and attention to detail in a signature palette of cool white, executed in premium quality rayon, linen, fujet and tensel, distinguished with water lily cutwork lace motifs and scalloped edges.
BI investigation finds 44 businesses were using Bitcoin, but estimates actual usage even higher
An investigation lead by Bank Indonesia (BI), the country's central bank, found 44 businesses on the island were receiving cryptocurrency transactions.
The 44 businesses are in the tourism and hospitality sector, including vehicle rental services, cafes, and tour packages, according to head representative of BI Bali Province, Causa Iman Karana.
The findings are the result of a BI-led investigation on the island, which was announced almost two weeks ago, surveying a number of businesses suspected of using cryptocurrency, particularly Bitcoin, based on tips from the community and information found on social media.
"We found that the current number is 44, but we estimate it may be more than that," Karana said on Tuesday.
JAKARTA – The period of goods and containers (dwelling time) in a number of import export container terminals managed by Pelindo Indonesia (Pelindo) III as of January 25, 2018 averaged 5.4 days.
The average dwelling time at container terminal managed by Pelindo III was surpassing dwelling time at container terminal managed by Pelindo II at Tanjung Priok Port in the same period of 4.9 days.
Director of Operations and Commercial of PT Pelindo III, M.Iqbal, said that the condition of dwelling time in the container terminal environment managed by BUMN was due to licensing issues from the agencies and export-related export business, so the containers have not been issued by the consignee from the port.
Jakarta, CNN Indonesia – The government says farmers in Bali have just exported 11 tons of red rice. The export is done in the middle of government policy to import 500 thousand tons of special rice.
Minister of Agriculture Amran Sulaiman said, in the middle of the polemic about rice imports in the country, farmers in Bali are exporting rice overseas, precisely to the United States.
"This is not normal rice, but brown rice, on January 23, 2018, the first export of 11 tons of red rice to America has been done," he said on the Facebook page on Friday (26/1).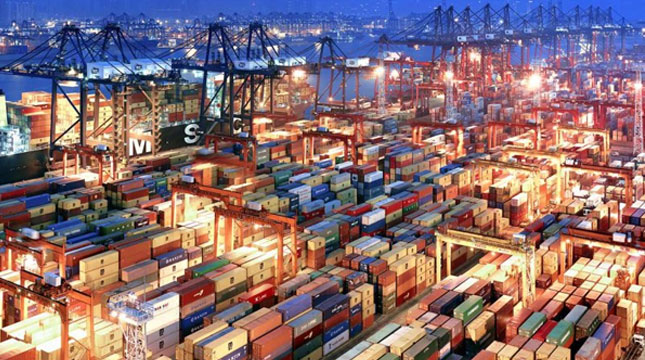 Jakarta, Supply Chain Indonesia (SCI), Indonesian Logistics Forwarders Association (ALFI), and ASEAN Federation of Forwarders Associations (AFFA) are collaborating on Indonesian logistics sector research.
This cooperation aims to explore the problems of Indonesia's logistics sector as the basis for formulating recommendations for improvement and development of Indonesia's logistics sector. Recommendations will be submitted to the Government through relevant ministries and agencies.
One form of ongoing cooperation is research through Indonesia's logistics sector polls of 2017-2018 to gain perceptions of stakeholders on Indonesia's logistics sector by 2017 and prediction in 2018.
Bitcoin Usage in Indonesia Outlawed by Bank Indonesia
(1/21/2018)
The Jakarta Globe reports the use of bitcoins in Bali is coming under close scrutiny of the Central Bank, following the issuance of a nationwide ban on the use of crypto currencies announced by Bank Indonesia on December 7, 2018.
Causa Iman Karana, who heads the Bank Indonesia office in Bali, said: "We found out from some postings on social media that Bali appeared to have become a haven for bitcoin transactions."

Bank Indonesia deployed undercover investigators, starting in late 2017, to investigate the activities of companies in Indonesia offering bitcoin transactions. The target of these investigations have covered 44 companies including cafes, car rentals, hotels, travel companies and jewelry stores.
Where to lounge on sunbeds, swim in the sea & infinity pools, sip on cocktails, soak in amazing island views and get a taste of the high life
So, you've decided to come to Bali. Excellent choice, whether it was for the delicious food, welcoming and beautiful culture, incredible temples, world-class waves, spectacular nature, or you just want to get pampered.
Whether you've been to the Island of the Gods heaps of times, you're a Bali virgin (and need to be convinced to come here for some crazy reason), or you've done yourself right and live here, sometimes you just need some down-time on the beach, so you can sprawl out on a daybed, soak up that 'vitamin sea', read your book, and get some quality R&R with a cocktail in hand. Then: go for a refreshing dip in a cool pool or the salty sea, get out, lay back down, and repeat! And keep doing that until the sun sinks down for an epic Bali sunset. 
With the many factors involved, shipping packages internationally can seem a little complicated for some senders.
Aspiring online sellers planning to accommodate buyers from different countries will need to understand how the process works. Additionally, those who often need to send packages to loved ones located abroad should take the time to check out available options, too.
There are numerous shipping companies that offer their services to interested clients. As for the type of transport used in the actual shipping, the choices can be reduced to two namely ocean freight and air freight.
What are the differences between these two alternatives? Which one is a better pick for you? This article aims to provide some basic information for those who want to make the best decision.